WPS Equality and Objectives

"At WPS I always feel part of something, I never feel left out, I always feel cared for" Voice of the WPS child 2023
Equality at WPS
During 2023 we are focusing on our value of equality. Each half-term we have whole school award to celebrate children demonstrating the value or equality and the values of respect, friendship and kindness.
Children and staff have worked to establish our whole school definition of equality you can read this below and around school.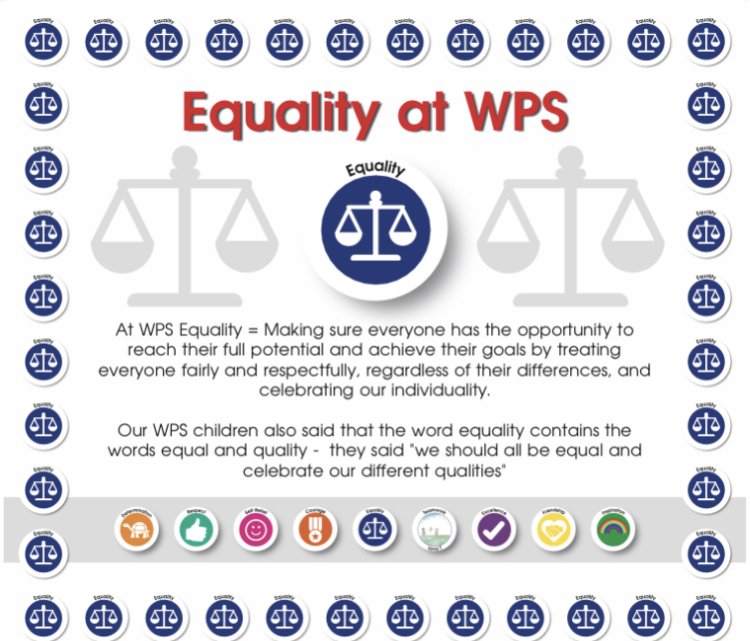 WPS Equality Objectives
Woolton Primary School is firmly opposed to all forms of discrimination and promotes equality of experience and opportunity for all members of our school community.
This is achieved through the following objectives:
Promotion of cultural understanding and awareness.
Promotion of religious understanding and awareness.
Through monitoring ensure equality of access to school activities for all groups of children and community members.
Through monitoring achievement and attainment data ensure any gaps of achievement between groups of children are actively closed.
Continue to improve accessibility for all across the school environment. By clicking on the following link you can view our WPS Accessibility Plan.
Ensure the WPS approaches to challenging racism and homophobia are applied consistently. You can view these by clicking on the blue links below.
You can view our Equality Policy by following the blue link below:
WPS Single Equality Policy 2022-23