******Well done everyone we achieved 97.0% school attendance during 2018-19 *****
School Every day at WPS
At Woolton Primary School we know that excellent school attendance is the key to successful schooling and we want to ensure our children have the best educational experience possible.
Attending school everyday will help give our child the best possible start in life.
Going to school every day means :
Learning new skills

Making friends

Having lots of fun

Building new relationships

Taking part in exciting activities
Regular attendance ensures children have the biggest chance to succeed, develop their confidence and to make and keep lasting friendships.
Autumn Term
November is WPS Attendance Awareness Month
Please see the flyer below for further information on special activities taking place during November.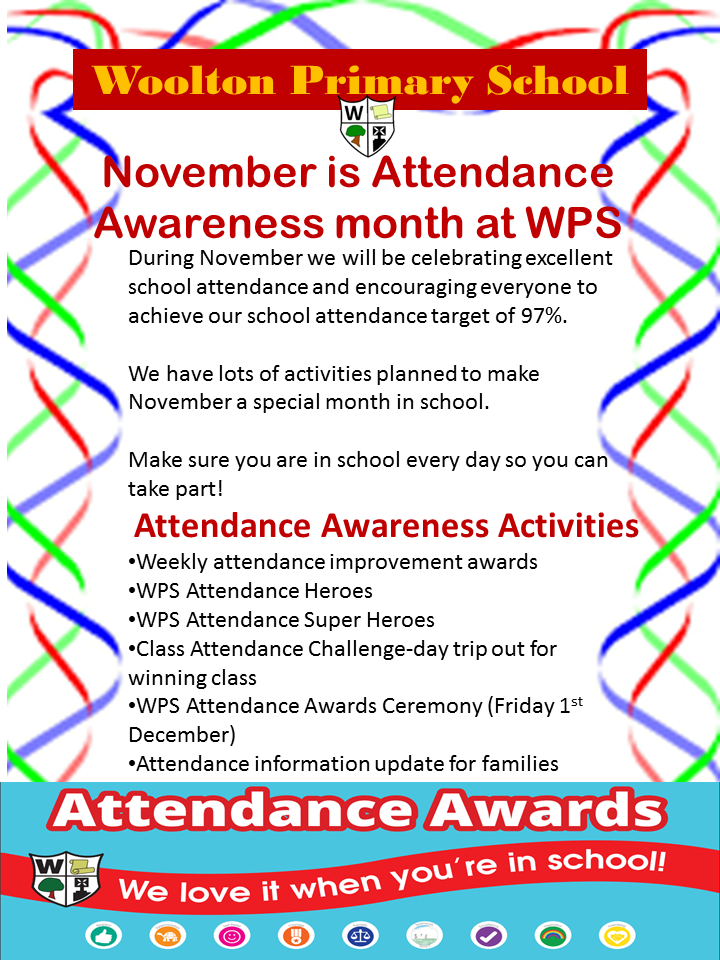 September update
Friday 29th September was a special day at WPS, as well as celebrating our sixth birthday we also celebrated the excellent attendance achieved during the last school year with a visit from the Book Bus.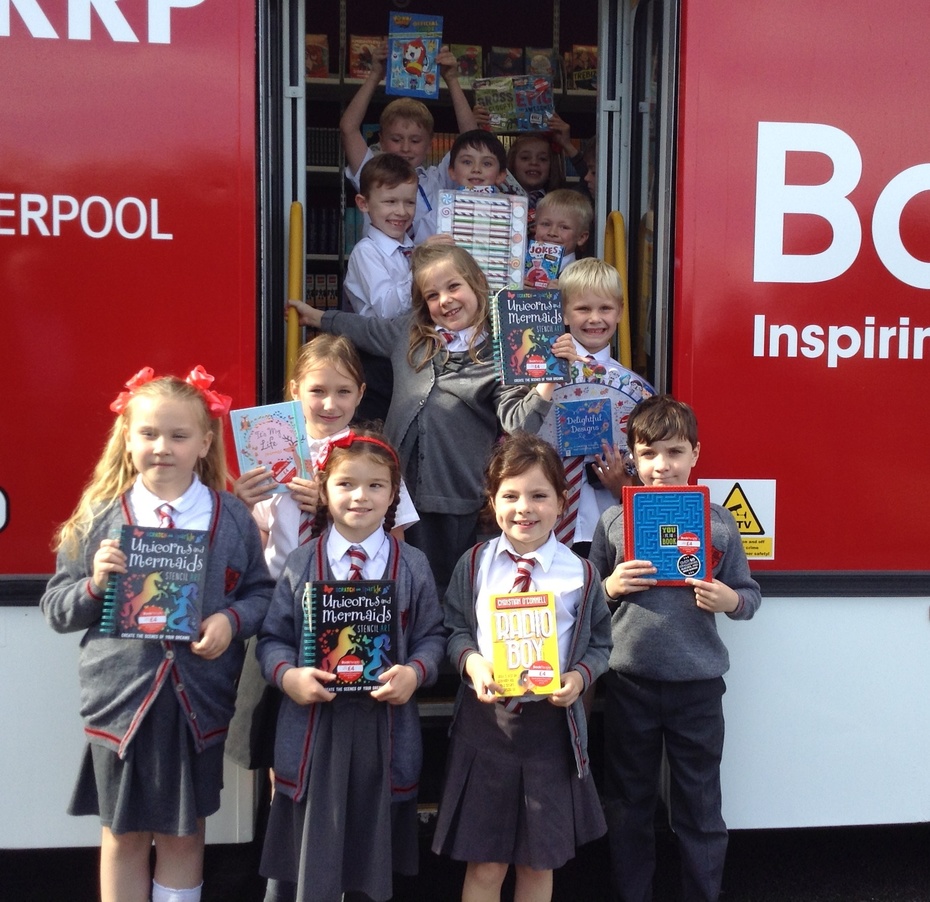 Spring and Summer Attendance 2017
WPS Attendance Data end of academic year totals.
We are currently ranked 12 for attendance out of Liverpool schools.

Autumn Term Attendance 2016
Please look at the chart below to see how our WPS attendance figures have improved over the past five years. Due to our continued combined effort, WPS is ranked 10 amongst Liverpool schools for attendance. Thank you for your support.
Our whole school attendance target for this year is 97.2%.
WPS Attendance Data end of Academic Year Totals
| | |
| --- | --- |
| WPS 2012 | 93.2% |
| WPS 2013 | 93.3% |
| WPS 2014 | 96.1% |
| WPS 2015 | 96.2% |
| WPS 2016 | 96.8% |
November 2016 Attendance Challenge
WPS Potato Head Attendance Challenge
The Potato Head Attendance Challenge starts from Monday 14th November.
From Monday 14th classes will be making sure their potato is ready to take part – classes will be giving their potato and taking a photo with their potato.
From Monday 14th classes will start to build their potato.
Classes can pick and add a feature or part of the potato each day the class achieves our school attendance target of 97.2%
The first class to add 10 pieces to their potato will be the overall winner and will receive the special potato surprise:
A camping afternoon games/activities round the campfire (Maybe a baked potato!!!!)
There will be special rewards for each classes as they finish their class potato.
WPS School Attendance Information 2015 - 2016
The February Attendance Challenge is here!
Friday Surprise January 2015
Classes achieving 100% attendance on a Friday receive a special class reward. 1BM and 2B were very pleased to be presented with these lovely class reading packs on Friday 30th January. Well done!
Attendance Information Autumn Term 2014-15
Autumn Term 1 attendance target achieved - 97.5%
We achieved our Autumn Term 1 attendance target of 97%, well done to everyone. As a special reward Mr Nowell and Mrs Irwin made everyone in school a healthy breakfast. A special well done to our excellent toast makers - 622 pieces in all.
The WPS monthly attendance challenge is back for 2014-15
Attendance Information Summer Term 2014
Attendance Update May 2014
*** WPS 100% Club***
Can you achieve 100% attendance for the Summer Term 2014?

Will you achieve 100% attendance for the school year 2013-14?

Our 100% Club is on the way - see the pictures below to find out more
96%+ weekly challenge
Do you know about the Woolton?
The Woolton (W) is our new school currency, each class now has its own savings account with the bank of WPS and will be able to collect Wooltons for a range of achievements.
Every week that a class exceeds our 96% attendance target they will receive W20 for their savings jar in class and this will be recorded in their WPS Bank Account.
Classes can achieve additional Wooltons, for example, W10 if everyone brings in their PE kit and W50 for a 100% homework return. Our school council have again been busy thinking of lots of ideas for both earning and cashing in Wooltons. They have also designed our Woolton notes - look out for some familiar faces!!
Classes will have the chance to spend their Wooltons or keep saving at the end of each half-term - exchange rates may however fluctuate so there will be lots of decsions to be made.
We have appointed a team of Y5 mathematicians to manage the Bank of WPS, and they will be updating you soon.
We will also keep you updated on the latest exchange rates!!
Our new Monday and Friday Attendance Challenge
We have recently introduced a new range of activities to reward and support good attendance at WPS. When we noticed our attendance was regulary dipping below our 96% target on Mondays and Friday we introduced two new class challenges for both these days.
The Monday Morning 100% Challenge
When a class achieves 100% attendance on a Monday our special attendance trophy is sent to their class, they also work their way through a set of reward activities from bronze to silver and gold.
The Friday Surprise
Classes achieving 100% attendance on Friday receive the Friday surprise on a Friday afternoon. Our School Council thought of lots of ideas for surprises and the surprise is different each week. Classes record the date and their surprise on a special chart in their classroom.
We will tell you which classes have achieved these awards in the attendance section of our weekly newsletter.
Attendance information Spring Term 2014
Attendance Information Autumn Term 2013
November Attendance Challenge
Congratulations to Class 5E who are the winners of our October Attendance Challenge. They achieved a wonderful score of 99.4%. They are already enjoying using their new Ipad in class. The November Attendance Challenge has already started and will be the last opportunity for a class to win their own Ipad during 2013- our December Challenge will have a special Christmas theme!
The October Attendance Challenge is here
September Attendance Challenge Results
Well done to Class 4R, they are the winners of our September attendance challenge with an overall precentage of 99.1% and are enjoying using their mini Ipad in class.
Thank you for all your support, during September we achieved the highest weekly attendance percertages since Woolton Primary School opened in September 2011.
Well done to all the children who achieved 100% attendance during the last school year - we hope you enjoy your visit to WHSmiths!!
Results of the Amazing Attendance Awards Poll - NOW CLOSED!

WPS Attendance Update July 2013
Can you believe that our Summer 2 Amazing Attendance Awards are almost here? The final awards for this school year will be presented on the last day of term. If you have achieved 96%+ attendance during this half-term you will be entered into the draw for an Amazing Award.
Our Summer 2 Amazing Attendance Award postcards will be on their way to you soon.
WPS Attendance Update June 2013
You voted for a family trip to Anfield or Goodison as our Summer 1 Amazing Attendance Award.
Well done ! 341 children achieved 96%+ attendance during the Summer 1 half-term. All children will be entered into our Amazing Attendance Awards prize draw which will take place during assemblies on Monday 10th June.
We will be starting our summer 2 challenge on Monday 3rd of June and we hope 400 children will reach our target this time.
Please see the details below and Good Luck!
WPS Attendance Update May 2013
Take the Summer 1 Attendance Challenge and be entered into the next round of our Amazing Attendance Awards.

WPS Attendance Update April 2013
Our Amazing Attendance Awards are back for the start of Summer Term 2013. All children achieving and exceeding our school attendance target of 96%, will be entered into our Amazing Attendance Awards Prize Draw.
The results will be announced during the week commencing April 22nd 2013.
You can vote for the prizes you would like to see awarded by completing the poll below.
Attendance Information from Liverpool Education Authority.