Information about Pupil Premium spending and School Sports Funding spending at WPS

What is Pupil Premium Funding?
Pupil Premium funding was introduced in April 2011. It provides additional funding for schools in England to raise the attainment of disadvantaged pupils and to close any gaps in acheivement between them and their peers.
The money must be spent to support pupils education. Schools must decide how the money will be allocated, ensuring pupils are supported appropriately.
Pupil Premium Spending at WPS
We use a targeted approach to allocate and maximise the impact of our PP fund allocation.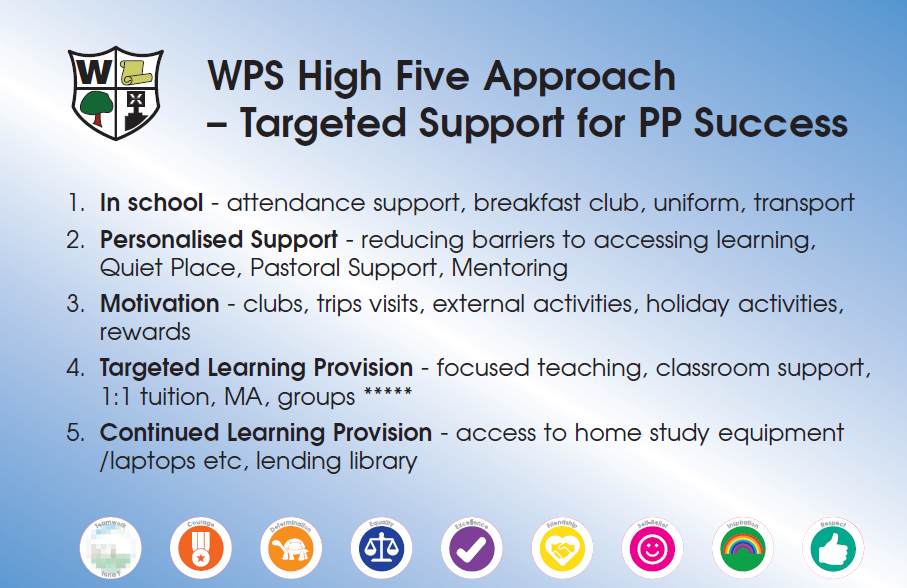 Please click the blue link below to view the WPS Policy Statement Pupil Premium support and funding at WPS.
WPS Pupil Premium Policy Statement 2022-23 -click here
For Further information about the allocation of Pupil Premium Funding at Woolton Primary School please see the link below.
WPS Pupil Premium Spending Allocation 2022-23 -click here
WPS Pupil Premium Strategy 2022-23- click here
WPS School Sports Funding 2022-23
Please click on the blue link below to view our plans for sports funding spending for 2022-23.
WPS School Sports Funding Spending 2022-23
Please also see the additional information about our Sports Project Work for 2022-23.
WPS New Sports 2022
Following pupil voice conversations we introduced three new sports during the 2021-22 academic year. These are curling, Quadball (formerly Quidditch) and Tchoukball.
A new sports week was held and staff training sessions delivered. Work to embed these sports across he curriculum will continue during the academic year 2022-23
WPS Girls Football Programme 2022-23
Girls Football has always been actively promoted at WPS. Following the success of the England Women's Team in becoming European Champions 2022, a renewed energy and focus will be placed on developing our approach to providing additional opportunities for girls to engage with the game. Our Girls Football Programme will take place throughout the year and will provide encouragement, additional skills training and after school activities for girls in all year groups during the course of the year.
WPS Motivational Sporting Visits Programme 2022-2023
The WPS Motivational Sporting Visits Programme aims to encourage children to participate in different sports, try new sporting opportunities and learn about the motivation and dedication of different sports people. The programme is based on a range of visits from sports people, coaches, secondary children and past/current WPS pupils, all sharing their experiences, motivations, highs and lows, advice and sporting journeys, through school and online visits during lessons and assemblies. The WPS Motivational Sports Programme also supports our teaching of SMSC and PSHCE.
WPS School Sports Funding 2021-22
Please click on the blue link below to review information about the use School Sports funding at WPS during 2021-22 including swimming statistics and impact outcomes, reviewed in July 2022.
WPS School Sports Funding Allocation, Spending and Impact 2021-22