Information about Pupil Premium spending at WPS

What is Pupil Premium Funding?
Pupil Premium funding was introduced in April 2011. It provides additional funding for schools in England to raise the attainment of disadvantaged pupils and to close any gaps in acheivement between them and their peers.
The money must be spent to support pupils education. Schools must decide how the money will be allocated, ensuring pupils are supported appropriately.
Pupil Premium Spending at WPS
We use a targeted approach to allocate and maximise the impact of our PP fund allocation.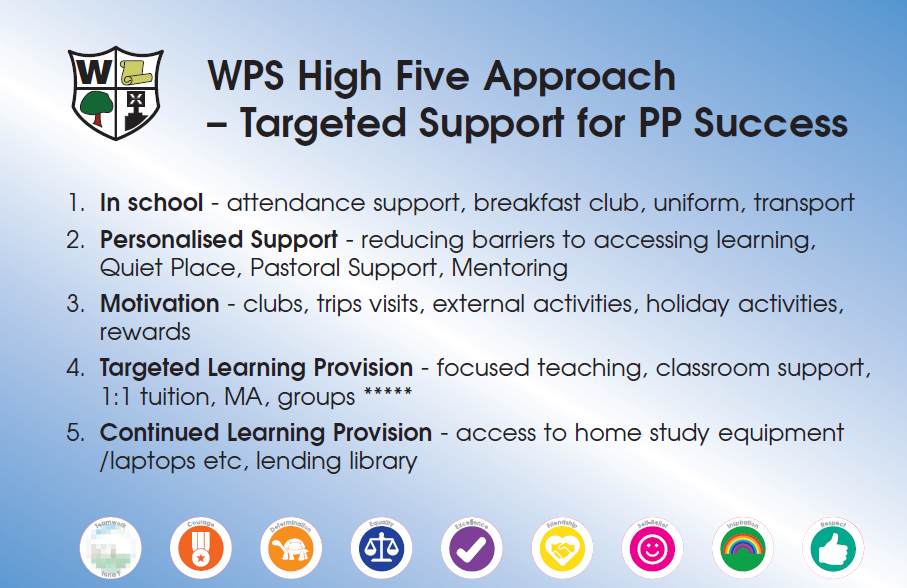 Please click the link below to view the WPS Policy Statement Pupil Premium support and funding at WPS.
WPS Pupil Premium Policy Statement 2018-19
For Further information about the allocation of Pupil Premium Funding at Woolton Primary School please see the link below.
WPS Pupil Premium Spending Allocation 2018-19
To view our Pupil Premium Strategy for 2017-18 please click on the blue link below.
WPS Pupil Premium Spending Strategy 2017-18 - click here
School Sports Funding 2018 - 2019
Please read the document below for information about the use of School Sports funding at WPS during 2018 - 2019.