Please see the Statutory Information page for our latest school assessment data as well as a further range of school policies
Paper copies of documentation from our website can be provided to parents/carers free of charge - please ask at the school office
WPS School Information

All WPS Safeguarding Policies are updated annually during the Autumn Term. The next update takes place in October 2018.
Safeguarding In

formation
How we

keep

our c

hildren safe:



At Woolton Primary we are committed to promoting the safeguarding and welfare of our pupils.

Our school Safeguarding Policy explains how we work together to keep our pupils safe.

Copies of this policy and other school policies are available from the office.

Our designated Safeguarding lead is Nia Blanch - Assistant Headteacher

Our deputy designated lead is Jane Ngenda - Headteacher

Our governor with responsibility for safeguarding is Andrew Cocklin.
Please click on the blue link below to view our school safeguarding leaflet. This provides a summary of our policy and is given to all visitors to school on arrival.
WPS Safeguarding Information Leaflet
You can also view our Safeguarding Information Leaflet for parents/carers, Keeping Children Safe in Education, for information about our approach to keeping your child safe, click on the link below:
WPS Keeping Children Safe in Education Leaflet for Parents and Carers 2017-18
Key people - please click the blue links below to see the key members of staff responsible for safeguarding and child protection at WPS, you can also view our Child Protection Policy and our Code of Conduct for School Employees.
WPS Safeguarding Key People 2017-18
WPS Child Protection Policy 2017-18 Revised October 2017
WPS Code of Conduct for School Employees Revised October 2017
The WPS Code of Conduct is our Staff Handbook. This details how staff fulfill the responsibilities of their roles as WPS employees and apply our professional standards as part of the Woolton Way. WPS Professional Standards can be viewed by clicking on the blue link below and scrolling down the page:
We have developed a wider range of policies to ensure we provide a safe and secure learning environment for all our WPS children. Paper copies of these policies can be requested from the school office.
These include: WPS Emergency Evacuation and Lockdown Procedures, First Aid and Accident Procedure, Health and Safety Policy and a wide range of risk assessments.
WPS staff and governors attend annual safeguarding training and receive regular safeguarding updates throughout each academic year.
WPS staff have taken part in Prevent Strategy training.
WPS applies a thorough recruitment process when appointing new staff and ensures safer recruitment practice is applied.
The Headteacher, Senior Leaders and Governors have completed Safer Recruitment Training.
WPS staff receive a range of training and guidance that further enables them to maintain the safety of our children.
This Includes the following : Annual Health and Safety Training, Fire Marshall, First Aid, Educational Visits, Cleaning
Safety and Coshh training.
Educational Visits at WPS
Children at WPS take part in a range of educational visits and trips throughout the school year. Children in Y4 & Y6 attend annual residential trips to the Kingswood Colomendy Centre.
Miss H Boag-Monroe is the WPS EVC ( Educational Visits Co-ordinator ) and attends annual training to support this role.
WPS has adopted the Local Authority Educational Visits Policy for risk assessing trips and visits and submits all risk assessments to the LA via the Evolve system.
WPS Ethos and Values

Our WPS values lead the way in all our work and provide the foundations of our welcoming and supportive school ethos.
We worked together to establish our values when WPS first opened in September 2011, they are the Olympic and Paralympic values.
In September 2015 we reviewed our values and added Teamwork and Self-belief to make the WPS values complete.
Our values can be found around our school buildings and grounds, you can even find a Spanish version of them if you look very carefully.
We combine our values with the FBV'S ( Fundamental British Values) to ensure WPS children are prepared for life in modern Britain.
Woolton Primary School Charter and Positive Behaviour Policy
During January 2017 we reviewed our Woolton Primary School Charter and Positive Behaviour Policy. Our ethos is to encourage all children and adults to respect and support each other at all times. Children are expected to show thoughtfulness and care for each other.
Our school charter and positive behaviour policy provide our pupils with the necessary guidance and support that will enable them to demonstrate positive behaviour and attitudes to learning during their time in school.

Our School Charter
To make our school a happy place for everyone to learn and work we have agreed we will:
Always respect everyone and celebrate their differences.

Always look after each other and try to be honest.

Show we care by resolving disagreements peacefully.

Always use our best manners and be helpful to everyone.

Always listen carefully to each other and try our very best in all we do.

Always move around the school quietly and safely.

Always take good care of our school property and belongings.

Show respect for ourselves and our school by wearing our uniform with pride
Our Positive Behaviour Policy explains our school reward system, including our school postcards which are sent home weekly.
Click on the blue link below to view a full copy of our Positive Behaviour Policy and our Woolton Gem Award including our Weekly Focus Areas for improving the behaviour of all pupils.
WPS Policy for Supporting Positive Pupil Behaviour 2017-18
At WPS we all use whole body listening - the poster below explains what we do.
Anti-Bullying work at WPS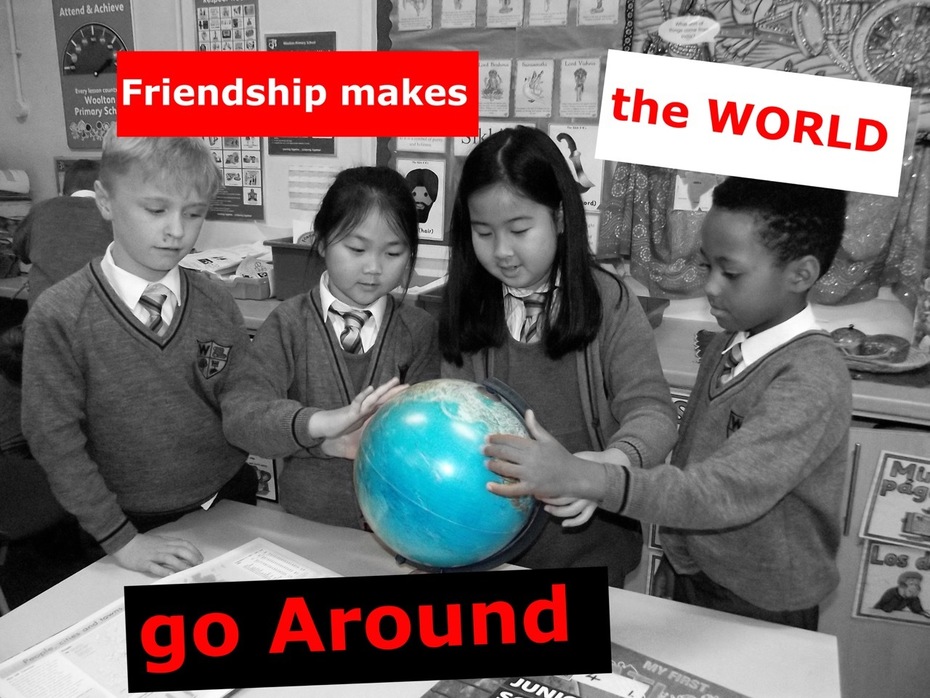 We want all our pupils to learn in a safe, caring, supportive and happy environment without the fear of being bullied. Anti-bullying themes and teaching children safe messages are an integral part of our daily work. During 2016-17 we introduced six whole school anti-bullying and online safety days to ensure children develop a full understanding of these areas.
WPS School Council host a range of events and activities during National Anti-Bullying Week this takes place from 13th-17th November 2017. The theme for this year is "All different - all equal ".
Please click the blue link below to view our Anti -bullying Policy
WPS Anti-Bullying Policy 2017-18
Some links to further information about safety and positive behaviour:
Bullying UK - Information and advice about bullying for children, parents and schools.
Kidscape - An organisation which helps to prevent bullying and child abuse.
Childline - ChildLine is the free helpline for children and young people
WPS Weekly Focus Behaviour Themes
Equality and Diversity at WPS
At WPS we are committed to equality and diversity and we are really proud of the work we do to ensure that everybody at our school is treated with equal dignity and worth, valuing their particular characteristics such as their age, disability, gender, ethnicity, religion or belief, sexual orientation and socio-economic circumstances.
Single Equality Policy and Plan
Please click on the blue link below to view our Equality Policy and plan.
WPS Single Equality Policy and Plan 2017-18

Black History Month October 2018
http://www.blackhistorymonth.org.uk/

WPS Additional Policy Documents 2017 - 2018
Please click on the blue letters to open the documents below
Woolton Primary Guidance on the use of Mobile Phones
WPS Code of Conduct for School Employees 2017-18
WPS Whistle blowing Policy 2016-2018
WPS Charging Policy 2017 -2019
Complaints Procedure 2017 - 2018, please click below
WPS Complaints Procedure 2017-18
Privacy Notice – Data Protection Act 1998